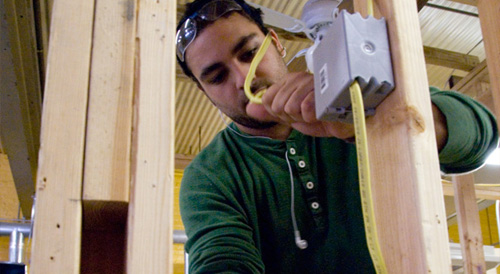 The electrical wiring inside your home is the most important part of your electrical system. It is also one of the most complicated systems and working with it is not only difficult but also hazardous if you are not properly trained. The smallest misstep during the rewiring process can be detrimental to the safety of your home. In the United States, countless fires have been reported due to poor wiring techniques and faulty materials. A minor mistake can cause severe consequences which may not be evident until an accident happens.
Keep your home safe and call us for all your Anthem wiring replacement services. We are your Anthem electricians in Anthem Arizona. Our team of electricians are licensed and certified with extensive experience. We guarantee quality workmanship and professionalism at every job we undertake. We also guarantee you that our wiring services will be up to the standard and codes of the local body.
Anthem rewiring services
For those who live in an older home without having their electrical wiring replaced – should do so. The homes that were built only 20 years ago may not have wiring that meets the standards of today. Anthem electrical needs have also grown rapidly and more and more electricity is used for various devices and appliances on a regular basis. The electrical wiring can also be damaged by rodents, exposure to water, and overheating. The weak wiring system should be replaced as soon as possible. If they are not replaced properly, the wiring can eventually lead to huge problems.
Here are a few things you should look out for in your home that would indicate you need the services of Anthem wiring replacement from us:
The wiring inside your home is cracked, damaged, or even falling apart.
The wires are black. Since the latest wiring techniques use PVC materials, the wiring is usually white or gray.
There is no electrical outlet for every six to eight feet of the wall in your home.
Blown circuits and fuses are a common occurrence in your residential premises.
If your answer to one of the above statement is "yes" then you should hire a qualified electrician and have them take a look at your home. Rewiring calls for an experienced and professional electrician – don't try to attempt it yourself. Contact Your Anthem Electrician in Anthem Arizona and get a free quote on your Anthem wiring replacement needs.