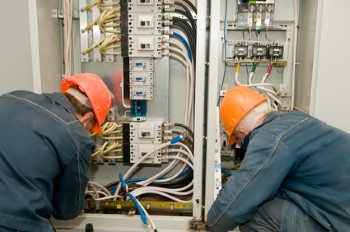 Your Anthem Electrician in Anthem, Arizona understands that electricity is the single most important element necessary for creating safety and comfort within your home. Our qualified and professional electricians make your home more comfortable, attractive, and valuable with Anthem electrical installation as well as services and repair of fixtures, outlets and much more.
From general services and repair to new construction and code corrections, we have always based our reputation on customer satisfaction. We believe that our client's safety and satisfaction comes first. When you hire your Anthem electrician, you can be assured that you will receive the prompt and professional attention that you are looking for. We will provide you with intuitive and expert solutions for all your electricity-based needs.
Our expert electricians will:
Conduct a thorough survey of your home's electrical system
Plan and install a new wiring system for your home
Diagnose and repair current electrical system
Service and repair your electrical wiring
Install and repair electrical outlets, switches, fittings, etc
Install switchboards, water heaters, and more appliances
Install new lights and ceiling fans
Install or change/repair circuit breakers
Install or repair outdoor lighting
Generators
Safety and home purchase inspections
Meter upgrades
Surge protectors
Smoke detectors
Intercom systems
Hot tub and spa hookups
Wall mount and flat TV installation
Garage lights
Outdoor waterproof outlets
Heating and air conditioning connections
Track lighting
And much more
We provide same day Anthem electrical installation – services and repairs. We are also offering 24 hours and 7 days a week emergency service in Anthem, Arizona, and surrounding areas. Our licensed and experienced electricians perform timely and quality work. No job is too big or small for us. We can handle the smallest residential electrical repairs to the largest residential electrical installations. Whether your home is new or old, you are currently remodeling or adding new rooms – we have the perfect solution for all your electricity needs. Our staff also cleans up any mess that occurs during installation, services, and repair. So what are you waiting for? Contact Your Anthem Electricians in Anthem, Arizona for all your Anthem Electrical installation, services and repair needs.